San Marcos, San Diego County, CA --- Join the crew, family & friends of Stone Brewing to celebrate the brewery's eighth anniversary in grand style. The
Stone 8th Anniversary Celebration & Invitational Beer Festival
will take place on Saturday, August 21st from Noon to 4pm. In addition to the famous line-up of Stone brews, this year's event will showcase beers from over 20 guest breweries and food from local restaurants (all prepared with Stone beers). Special features will include the debut of the much-anticipated
Stone 8th Anniversary Ale
and a selection of specially prepared cask-conditioned beers. Event proceeds benefit the Boys & Girls Club of San Marcos, the Palomar Family YMCA and the Surfrider Foundation.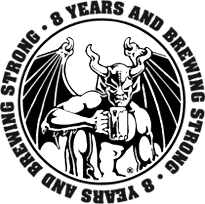 For this year's event, and for the first time ever, Stone Brewing is selling tickets in advance. Tickets went on sale June 15, 2004 via the Stone Brewing website, and the company reports that sales are brisk. In order to keep crowds at a manageable level for maximum enjoyment of the event, ticket sales will be capped. The event is anticipated to sell out.
The Stone Anniversary Celebration has become a well-known community event over the years, with last year's event drawing more than 3500 people and raising more than $34,000 for the Boys & Girls Club of San Marcos and the Surfrider Foundation! The modest $15 donation enables attendees to enjoy an incredible array of specially selected craft beers from all over the USA and beyond, with a focus on San Diego County.
Specially prepared foods will be available to sample and purchase and will include such delights as Stone Smoked Porter sausages, Arrogant Bastard Ale onion rings, Stone Smoked Porter cheesecake, Mike's Beer Cheese (made with Stone beers), and non-alcoholic sodas brewed up specially for our event by a local homebrew club. Please note that while all ages are welcome, many portions/areas of the event are restricted to those 21 and over.
Founded in 1996, the Stone Brewing Co. is located in San Marcos, San Diego County, CA and is one of the fastest growing breweries in the country. Additionally, Stone Brewing is one of the highest rated breweries in the world according to both
RateBeer.com
and
BeerAdvocate.com
. Stone Brewing is open for tours and tastings on Fridays from 3-6pm and on Saturdays from11-3pm. The brewery is located at
[OLD ADDRESS REMOVED]
. For more information on the Stone 8th Anniversary Celebration go to
http://www.stonebrewing.com/8thanniv
.