A Holiday Present To Beer Enthusiasts:
Stone Brewing Digs Deep Into The Archives
Massive
Winter
Snow
Stone Storm
Forecasted
For Late December In San Diego
Escondido, CA -- On Christmas Eve the Stone Brewing Co. is offering an unprecedented Christmas present to fans of great beers at the brewery's newly opened Stone World Bistro & Gardens. The restaurant features 32 beers on tap, which typically includes 6-8 Stone brews and a rotating selection that focuses on San Diego County breweries and other specialty breweries from the US and abroad.
On Christmas Eve this year however, the brewery's new restaurant will dig d-e-e-p into the Stone archives to present an incredible array of 32 fresh and aged Stone Brewing Co. specialty beers. Rarities will include a five gallon keg of 2002's Stone 02.02.02 Vertical Epic Ale --- a single 22oz bottle of which was sold on eBay for $450 --- a keg each of Stone 03.03.03 Vertical Epic Ale, Stone 04.04.04 Vertical Epic Ale, Stone 05.05.05 Vertical Epic Ale, and this year's Stone 06.06.06 Vertical Epic Ale. Other gems to be included are multiple year vintages of Double Bastard Ale, Stone Imperial Russian Stout, Stone Old Guardian Barley Wine, and the Stone Anniversary Ales.
Additionally, special bottles will also be available including rare treasures such as Sawyer's Triple (2003) and the StoneWall Ale (2006), both of which were originally released to raise funds for important charities. In the spirit of the season of giving, these two beers in particular will be sold at intentionally inflated prices with the additional proceeds donated to the original charities for which they were created.
Whether you need a respite from last minute shopping on Christmas Eve (the Stone Store will be open, by the way, if you're only looking for a respite from shopping idiocy, but not from last minute gifts that say "I've got great taste"), or a respite with/from visiting relatives during the Holiday week, the Stone Brewing World Bistro & Gardens will be THE place to escape the melee.
The largest number of Stone brews on tap previously was when the brewery kicked off its beers in New York in 2003 with 12 beers on tap. The brewery says that due to a dwindling supply of archived beers, it is unlikely that an event with this high a number of specialty beers will ever happen again.
The beers will remain on tap at the Stone World Bistro & Gardens until they run out.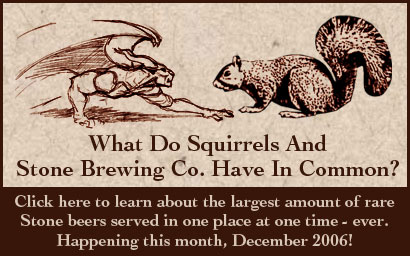 Founded in 1996, the Stone Brewing Co. is one of the fastest growing breweries in the country. Additionally, Stone Brewing is one of the highest rated breweries in the world according to both RateBeer.com and BeerAdvocate.com. Stone Brewing Co. is currently open for tours and tastings every Friday from 3-6pm and Saturday from 11-3pm, at [OLD ADDRESS REMOVED]. Stone Brewing will move in late 2005 to 1999 Citracado Parkway, Escondido, CA. For more information, go to www.stonebrewing.com.