San Marcos, San Diego County, CA --- On Friday, October 3rd, Stone Brewing will release a very special beer to raise funds for an important cause and honor a boy who is close to their hearts. The details behind the inspiration for the beer can perhaps best be explained by the bottle's own label:
"Inspiration comes from many sources. The inspiration for Sawyer's Triple comes from namesake Sawyer Benjamin Sherwood, the 8 year-old son of Stone brewer Bill Sherwood. Over the past four years, it has been our distinct pleasure to get to know Sawyer via his visits to the brewery or at an occasional backyard BBQ. An engaging and athletic kid if you ever knew one. Sawyer was recently diagnosed with Adrenoleukodystrophy, also known as ALD, a rare neuro-degenerative disease. At the time of this writing, Sawyer is in a fight for his life.
"Sawyer's Triple is dedicated to Sawyer and the courage in all of us. To not giving up, even when it may appear impossible to win. For those with indomitable spirit such as Sawyer, giving up is not an option. And they inspire others.
"We have been inspired to help fight for awareness, research, understanding and ultimately, a cure for ALD. As with any important battle, this fight is invaluably aided by help from our friends. Pulling together for a common cause is as elemental to the human spirit as the search for knowledge and betterment.
"When you enjoy this brew, we encourage you to lift a glass to the noble fight in all of us. And when your fight is overwhelming, remember to seek help, and when you are able to, offer help to others. On Sawyer's behalf, and all those who need assistance in their fight, we thank you for yours."
Sawyer's Triple is based upon the traditional "Golden Triple" style of strong ale, hailing from Belgium, and weighs in at 7.6% alc/vol. The brew is deep golden in color with a distinctive spicy, sweet and hoppy nose. Effervescent carbonation leads to a modestly dry malt character with hoppy flavors and alcohol overtones. Sawyer's Triple was formulated and brewed by Bill Sherwood.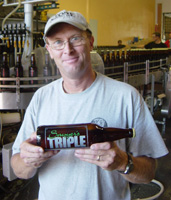 Stone brewer --- and more importantly, Sawyer's father --- Bill Sherwood holds one of the first bottles of Sawyer's Triple off the line.
In addition to information about ALD, a full list of companies that generously donated their resources towards the creation of Sawyer's Triple can be found at
stonebrewing.com/sawyerstriple
Sawyer's Triple will be available exclusively at Stone Brewing during the brewery's normal "
Gift Shop & Tasting Room Hours
" --- Fridays from 3-6pm and Saturdays from 11-3pm. Single 22oz bottles of Sawyer's Triple will sell for $6, plus tax & CRV. Full cases of twelve 22oz bottles will sell for $60, plus tax & CRV. 100% of the proceeds from the sale of Sawyer's Triple will go towards ALD causes and charities. 300 cases were produced and the brew will be on sale until sold out.
Stone Brewing opened for business in 1996 and is located at
[OLD ADDRESS REMOVED]
. For more info, go to
stonebrewing.com/sawyerstriple
or call the brewery at (760) 471-4999 x102. Read
Sawyer's Triple FAQs
here.