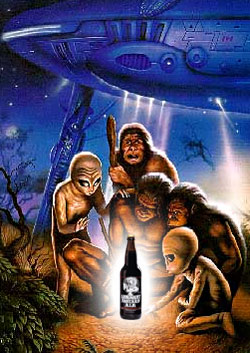 San Marcos (San Diego), CA --- What happens at exactly 12 minutes after 12 Noon on the 12th of March? Will all the planets align just so in some once-in-an-eon display of cosmic harmony? Will Nessie, Chupacabra, Bigfoot and assorted space aliens cut crop circles on Fox television detailing a master plan for humanity?
No. Even better.
And no less amazing. At that very moment a historic confluence of... Stone tap handles ---
12 to be exact
--- will be aligned and pouring a legendary lineup in perfect unison in the very heart of lower Manhattan's West Village. "[Stone VP] Arlan Arnsten and I will both be in attendance," said Stone CEO & co-founder Greg Koch. "I can tell you that there's never been a lineup of Stone brews like this before, and there probably won't be again. I wouldn't miss it for the world."
The Blind Tiger Ale House
, a renowned public house located in the West Village, welcomes Stone Brewing to the Empire state with this Epic* event to kickoff the current and future presence of Stone in New York. Neighboring Pennsylvania and Massachusetts also recently joined the list of Stone states, making beer enthusiasts on the right coast happier (and establishing less of a necessity to hoard their formerly black-market bottles of Arrogant Bastard Ale), and thus creating a compelling need for a celebration of this magnitude. New York now becomes the 17th state to gain the privilege of access to Arrogant Bastard Ale, Stone IPA and Stone Smoked Porter without having to bootleg.
Not familiar with Stone Brewing? Never heard of Arrogant Bastard Ale? Please don't say that you get ALL your information from TV commercials and the morning radio shock jocks.
Stone Brewing is notable for a few reasons, not the least of which is the wonderful beers they produce --- big, bold and full of character. Furthermore...
Stone Brewing is not only one of the fastest growing breweries in the nation, it is also one of the fastest growing companies in the US, according to the
2002 "Inc 500" list
.
Stone Brewing opened for business in 1996 and is located at 155 Mata Way in San Marcos (San Diego), CA. For more info, go to
www.stonebrewing.com
or call the brewery at (760) 471-4999 x102.
The Blind Tiger Ale House
is located at 518 Hudson Street, New York, NY (212) 675-3848.
Stone Brewing's
beers
will be distributed in The Bronx, Brooklyn, Manhattan, Queens, and Staten Island beginning March 1, 2003 by S.K.I. Beer Corp., 169 Gardner Avenue, Brooklyn, NY 11237. Contact Claude Siegel at (718) 821-7200
*Epic because the Stone 03.03.03 Vertical Epic Ale is among the 12 styles to be poured! The full list can be found on the Stone Brewing website